Kiawah Island Luxury Home
The house at 90 Otter Island, is a luxury home with stunning views. It is surrounded by live oaks and is a scenic 15 minute walk from the Kiawah Beach. The home is tastefully decorated, featuring 6 bedrooms, 5 ½ baths and an attached private guest house/in-law quarters. The house is furnished with plasma/LCD TVs and DVD players in each bedroom, living room, billiard room and library. It also boasts a surround sound system throughout the entire home.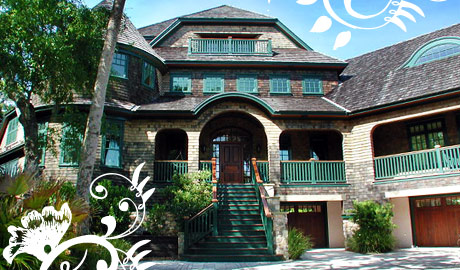 Before entering this beautiful home at the end of a restful cul-de-sac, you will see a large front porch showcasing plenty of comfortable rockers to enjoy the serenity and quietness. You will also find a large, screened-in porch surrounding the side and back of the house. The outdoor kitchen features a professional gas grill, ice maker, refrigerator and sink. You may choose to take a swim in the outdoor current pool. The comfortable wicker furniture provides a lovely place to rest and visit while two dining tables and plenty of chairs provide room to dine outside in front of the gas fireplace.
Main Floor and Master Suite
When entering the spacious open foyer, you will see a beautiful dining room surrounded by windows and French patio doors. The kitchen is to the left of the dining room and features granite counter tops and top-of-the-line appliances. A Sub-Zero refrigerator with ice and water dispenser, large gas stove cook-top with oven burners, second oven, built-in microwave, warming tray, wine cooler, garbage disposal, 2 dishwashers and large walk-in pantry make cooking easy and enjoyable.
Great Room
Through the kitchen is the great room, boasting a 68" plasma flat screen TV. This room also features multiple French patio doors looking out onto the beautiful screened in porch. The vast stone fireplace is centered between the great room and the comfortable living room which adds a sense of coziness to the atmosphere. Large windows overlook the lagoon, showcasing the beautiful, scenic view. A tavern table allows for dining in front of the fireplace.
Library
The unique, rounded design of the library is estate worthy yet comfortable and relaxing. This room features exquisitely handcrafted ceiling and walls. The oversized leather club chairs beckon one to sit and read, relax or perhaps strike up a competitive game of poker.
Master Suite
The master suite features a view of the lagoon through large windows. A large tapestry and hand carved bed anchor the room which includes plenty of comfortable reading space. In addition to the king-sized bed and walk-in closet, is a vast master bath which includes a whirlpool tub, walk-in shower, double sinks and a water closet.
Second Floor and Guest Rooms
The second floor master suite also includes a king-sized bed with impressive furniture including a fainting couch. The French doors open to a screened in porch overlooking the lagoon where one can relax in a rocking chair while observing the wildlife. This suite offers a large walk-in closet and a uniquely designed double bathroom with intercepting shower and bidet.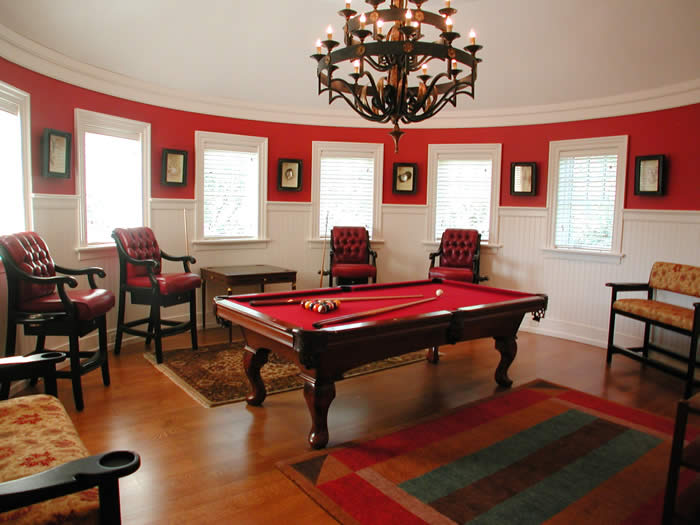 A rounded billiard room, with a poker and game table is noteworthy. Four tall red leather bar stools and two upholstered double benches provide adequate seating. A striking light fixture anchors the room and numerous windows provide natural light which accentuate the sphere. A large 68 " plasma TV completes the room.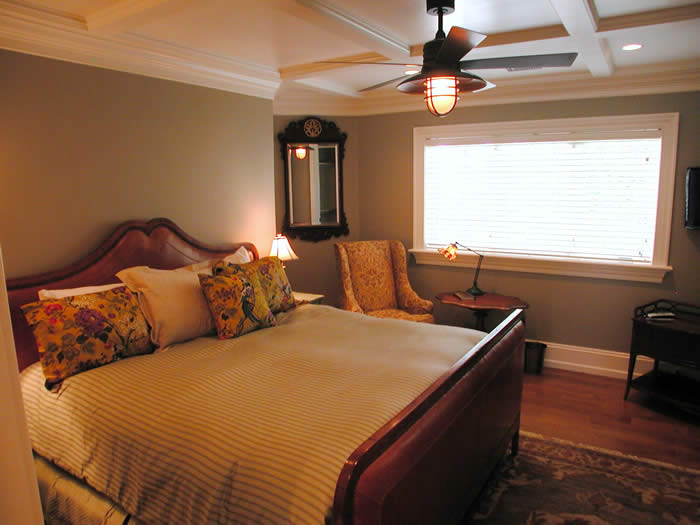 The first guest room features a king-sized bed with a striking, leather headboard and footboard. This room has a gallant feel with handsome décor. It also features a large closet and a full bath.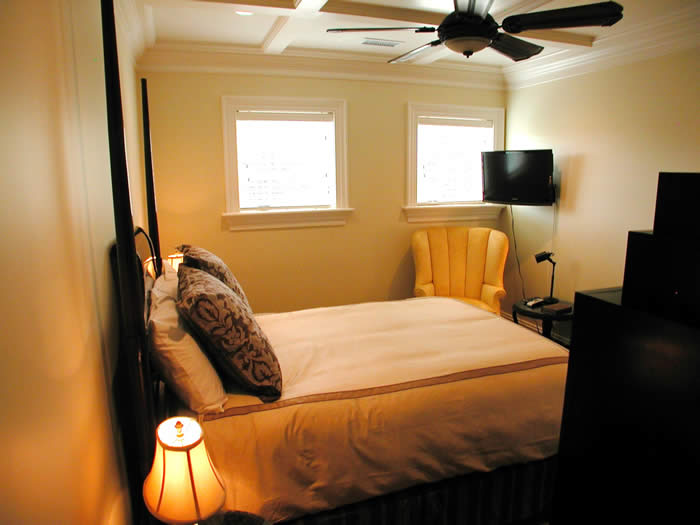 The second guest room is a perfect mix of dark wood and light colored fixtures. Guests can unwind by reading in the corner chair or resting on the queen bed. A single french door opens to a screened in porch where a hammock and rocking chair provide tranquility.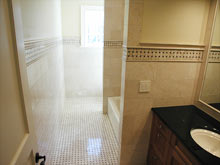 The full bathroom features a bathtub and is completely tiled in black and ivory. Situated off the hallway beside the second guest room, the room is inviting, spacious and appealing.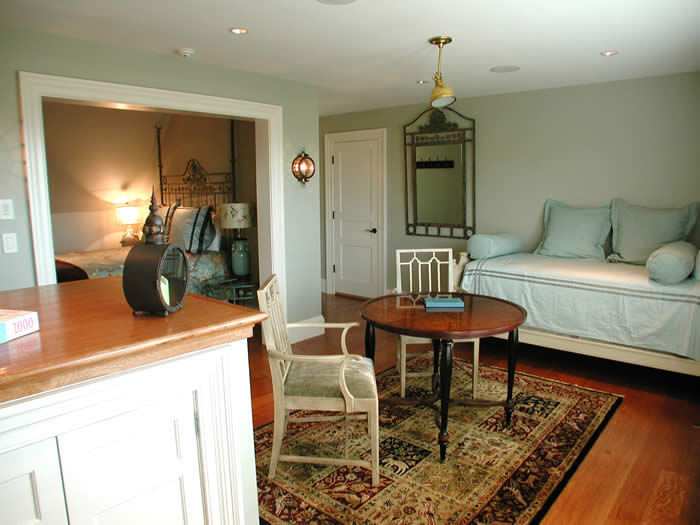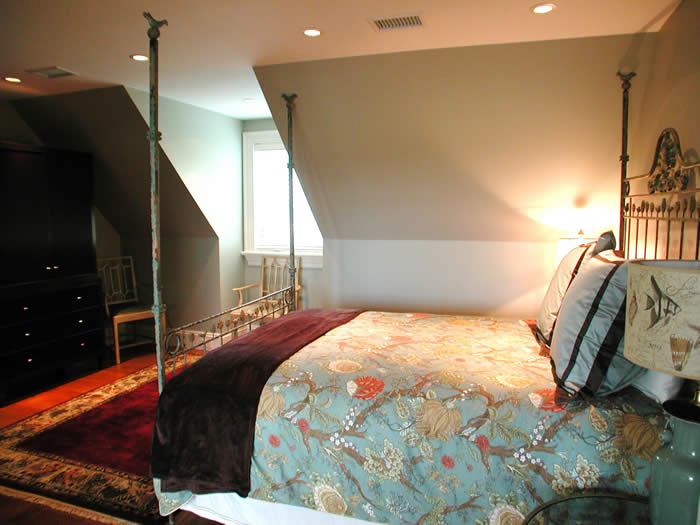 Third Floor and Studio
The third floor offers a unique quiet getaway. This two-room studio features a bedroom with an intriguing wrought iron queen bed. A front sitting room features a daybed and table with chairs. The view from the balcony is breathtaking, or you can also choose to relax on the porch in the back of the studio. A recliner provides the perfect setting to enjoy an early morning cup of coffee.
Guest House
90 Otter Island boasts a private guest house/in-law quarters attached to the main house by the screened-in porch. The guest house features a living room with a double sofa bed and kitchen, a master bedroom and a full bathroom.
This house is fitting for corporate business retreats, a golfing getaway, family vacations, an artist's escape, a wedding party or simply as a destination to get away and enjoy all the amenities of a luxurious home.
This is a unique vacation location for those who seek a destination beyond the ordinary. Pristine beaches, miles of biking paths, golf, tennis and abundant wildlife set Kiawah Island apart. The island was selected by Barron's as the second most desirable vacation destination, Hawaii being first. Kiawah boasts 5 championship golf courses and will be home to the PGA Championship in 2012.